New Skills learnt !
Posted on
I attended a great workshop just a few weeks ago at our Wild About Wool HQ here in Slaithwaite, Yorkshire. The tutor was Gwen Wagner-Adair, another Yorkshire knitting designer who has got a wealth of knitting knowledge and loads of knitting patterns under her belt. She taught us the basics of Brioche starting with a simple 1 coloured swatch and working up to a 2 coloured scarf with increases and decreases thrown in.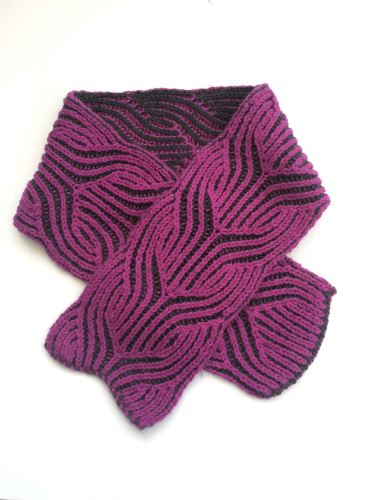 I made mistakes, not properly reading the pattern correctly (I always do this, always make assumptions that are not there). I found trying to pull back my mistakes and rectifying them there and then was futile, I was getting my knitting into a bigger mess.
So what did I do when I got home, Yes ! I pulled it all back and started again. This time concentrating, this time I wanted to understand what I was doing so that the unpicking and rectifying could be done. It took me nearly a week of pulling back, unpicking and a lot of swearing but I got to the end, I even found out that 2/3 rds of the way through I could knit Brioche without looking at the pattern and I was whizzing. Here is the beautiful scarf I completed! It's amazing !
So ever since then. I've been experimenting, reading , researching, swatching & knitting. I wanted to add a Brioche pattern into my portfolio and it needed to be EASY. I soon found out that knitting Brioche in the round was easier than in the flat and that 2 colored Brioche work actually helped you in the knitting process. I think I've surpassed myself with my brief. Not only is it a lovely cowl, I think the wrong side of the work looks just as stunning. I'll let you decide.
Brioche Cowl - is available in kit form currently