Wrap yourself in countryside tweed
Posted on
I've woken up this morning (after our best summers day yesterday here in the UK) to a mirky miserable low misty cloud. Summer is near enough over before it's even really begun :(. At least it gives us knitters a chance to start showing off our new autumnal makes. Which is exactly what I'm doing this morning.
One of my knitting group friends brought in some lovely 100% wool in gorgeous tweeds a couple of weeks ago. One a lovely grey and white combination and the other a pink, grey and white combo. The yarn I purchased from my friend can be found here - WoolyKnit Countryside tweed.

I immediately set to work. I knew I wanted to make something for myself out of the grey tweed, something that I could wear over a couple of tops that had lowish necklines and that I could fling over my shoulders.

I did a quick swatch to see if my needle size suited the lace pattern I had picked and to work out how many stitches to cast on to make the shawlette long enough to fling around my neck. I cast on, worked 24 rows of the lace pattern and then set to work with some short row shaping, keeping it simple but NOT symmetrical was the key. I wanted it to look casual, so I could just throw it on and it would look super!.

What do you think?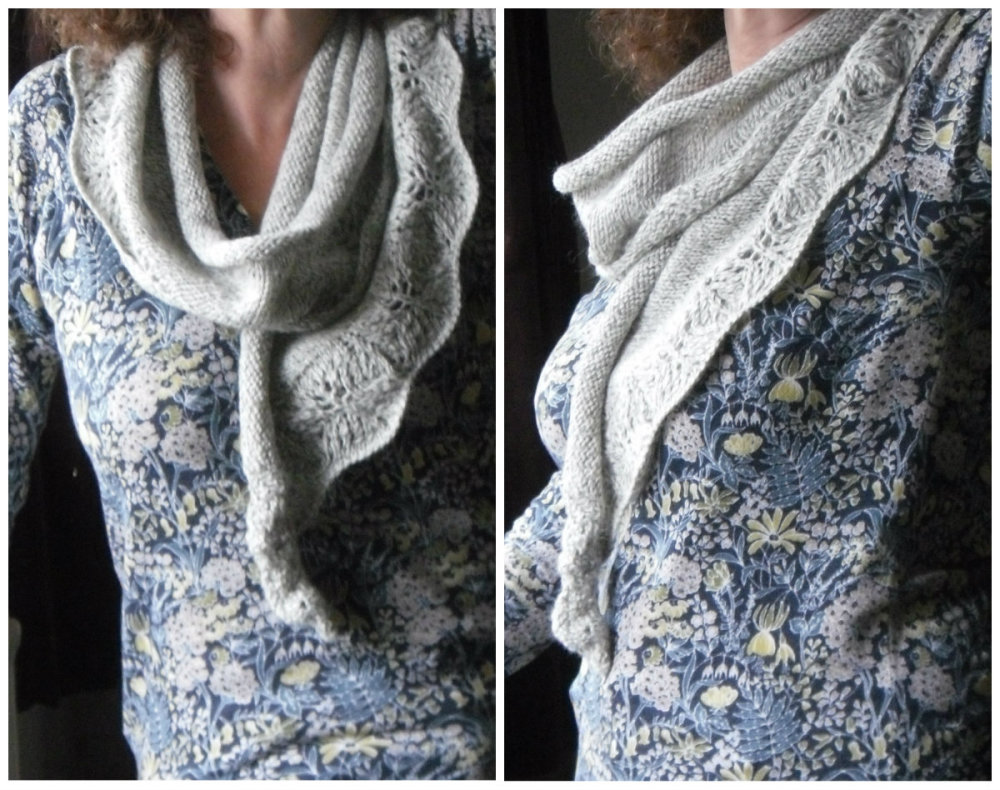 Another version of the same shawlette I quickly knit for the shop. This time a symmetrical version, with some shaping to ensure the shawlette lie smoothly round the shoulders. It's a neat little knit, which will enhance your outfit and keep your neck and shoulders warm in the process. Small enough to slip in your bag too.
Its available to purchase here , Finished photos below.