Christmas Trees in July
Posted on
Just before last Christmas , the Christmas of 2014 I was inspired to have a play around at creating a Christmas Tree Fair Isle chart. I wanted something that you could build up, step by step, piece by piece.
I finally came up with a nifty little Christmas tree chart, one with bows and a lovely bright shining star on top.
All the pieces to make the Christmas tree in this fair isle cushion are available in the pattern available to buy here. The pattern you get includes the fair isle charts and instructions to make the cushion cover.
The charts can be used on their own for your own christmassy sweaters etc or follow the instructions to make a small 12" square cushion cover..
6 Mini Tree Christmas Tree: (30 stitches across x 41 rows) finished size - 6" / 15 cm x 6" / 15cm


15 Mini Tree Christmas Tree: (50 stitches across x 61 rows) finished size - 10" / 25.5cm x 10" / 25.5cm

The 12 " cushion cover - uses the 15 mini tree christmas tree chart.
Today , one wet windy day at the end of July, getting myself prepared for the Christmas period, I again got to play.
This time I wanted to try out my fair isle charts once again. I used mega chunky wool (a mix of Rowans Big Wool and Wendy's Pampas Mega Chunky) to see what sort of effect I could create using chunky wool and large needles (10mm). I used the smaller 6 mini tree chart and was rather surprised when I finished up with this great wall hanging. So much so that I hung it in the garden , hung over our new fencing.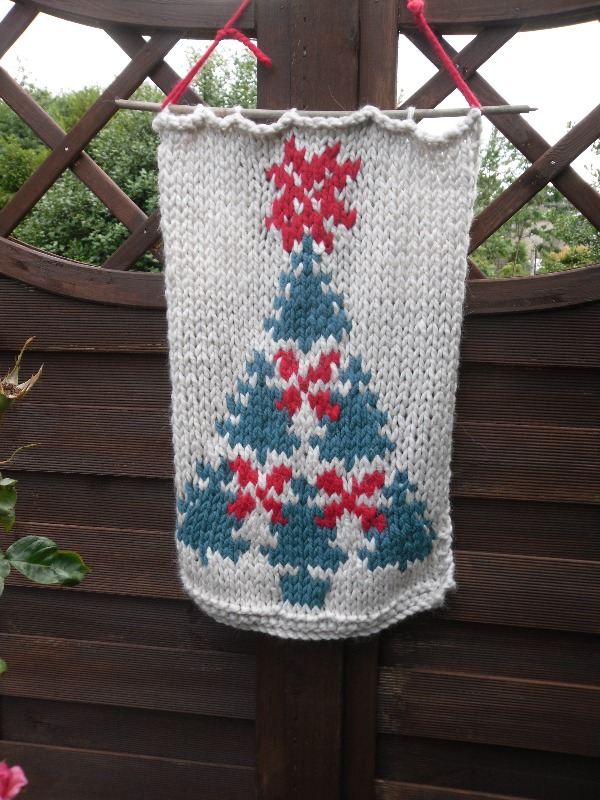 And as part of the Christmas in July promotions undertaken by the bigger retailers , this little pattern was chosen by LoveKnitting. I was so surprised that they chose my pattern as a Christmas In July feature. Such a lovely blog posting celebrating Rowan's great tweed yarn that I initially knit the cushion in. Such glorious colours , all inspired and named from my neck of the woods , Yorkshire and the Yorkshire Dales. The famous designer Martin Storey that's mentioned in the posting is one of my faves too , after meeting him at a Big Cabling workshop at Rowan's HQ in Holmfirth, Yorkshire.