New Pattern ! Lace Boxy Cardigan
Posted on
When I walked into a knitting workshop a few weeks ago that had been arranged by my local knitting group I was totally surprised that one of the group members was offering some lovely mohair yarn for sale mega cheap. Seems she hates knitting with mohair , whereas I simply love it! , so I snatched it up immediately. It was a mohair brand that I wasnt familiar with but the colour was an amazing subtle purple / lilac colour which I loved and knew that it would blend in perfectly with a lot of items in my wardrobe.
The yarn was Louisa Harding's La Salute , it's a fuzzy worsted of 79% mohair and 21% nylon. It is available in colors from pastel to bright. The tension is 20sts x 28rows when knitted on a 4mm needle Comes in 25grm balls 105mtrs. Apparently the yarn is now discontinued , but can be found on ebay and ravelry if you do a little digging. If you want the lace pattern to be more prominant , then any yarn that knits up to the same tension will do the trick.
Anyway It sat at home for a few days before I decided to have a little play.
I started playing with a lovely lace pattern I had found on the web a few weeks previous, of course I had to put my own twist on the pattern, it wouldn't be me if I didn't. I loved the effect I achieved with it. The mohair being a really fuzzy type did hide the pattern a little but I carried on with it regardless.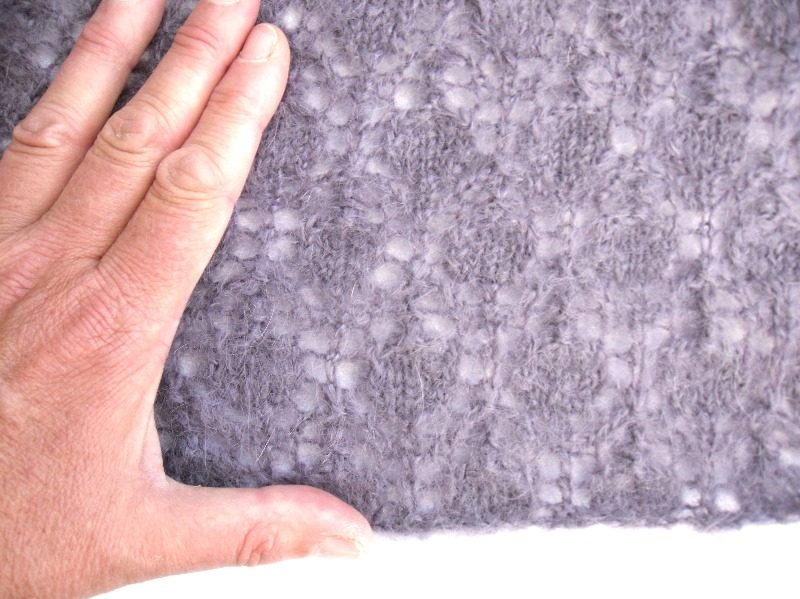 Within no time at all I had knit the back of a cardigan and lots and lots of scribbles and mathematical workings out later I had knit the fronts too. It was a simple design as I wanted to concentrate on the lace rather than armhole shaping's , so there is none ! I just simple increased for the arms and carried on knitting. The lace I worked into the sleeves too and across the back just underneath the neckline.
This cardigan I love ! I have worn it a few times so far and always have had such lovely comments. This is probably the first time in my life I'm waiting for the weather to cool down a little so I can wear it more often. You can find the pattern here - Lace Boxy Cardigan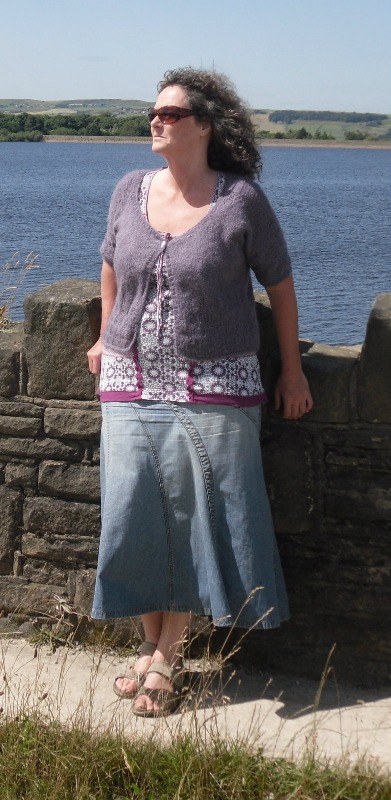 The photo was taken on one of our dog walks round our local reservoir. Wonderful views in the background, don't you think.